The coronavirus pandemic has illustrated the need for innovative approaches to student placements so that when adverse events occur, placements are not cancelled, but easily reconfigured so students can complete their degrees and graduate with work-ready skills sets.
This not only includes preparing students for more diverse experiences, including the need to respond to sudden changes, but also the development of supports and resources for supervisors so that placements can continue.
Many aspects of virtual supervision are no different from a face-to-face placement. Virtual supervision of traditional placement models can look quite different, depending on where the supervisor, student and client are located. Some of these models are illustrated below: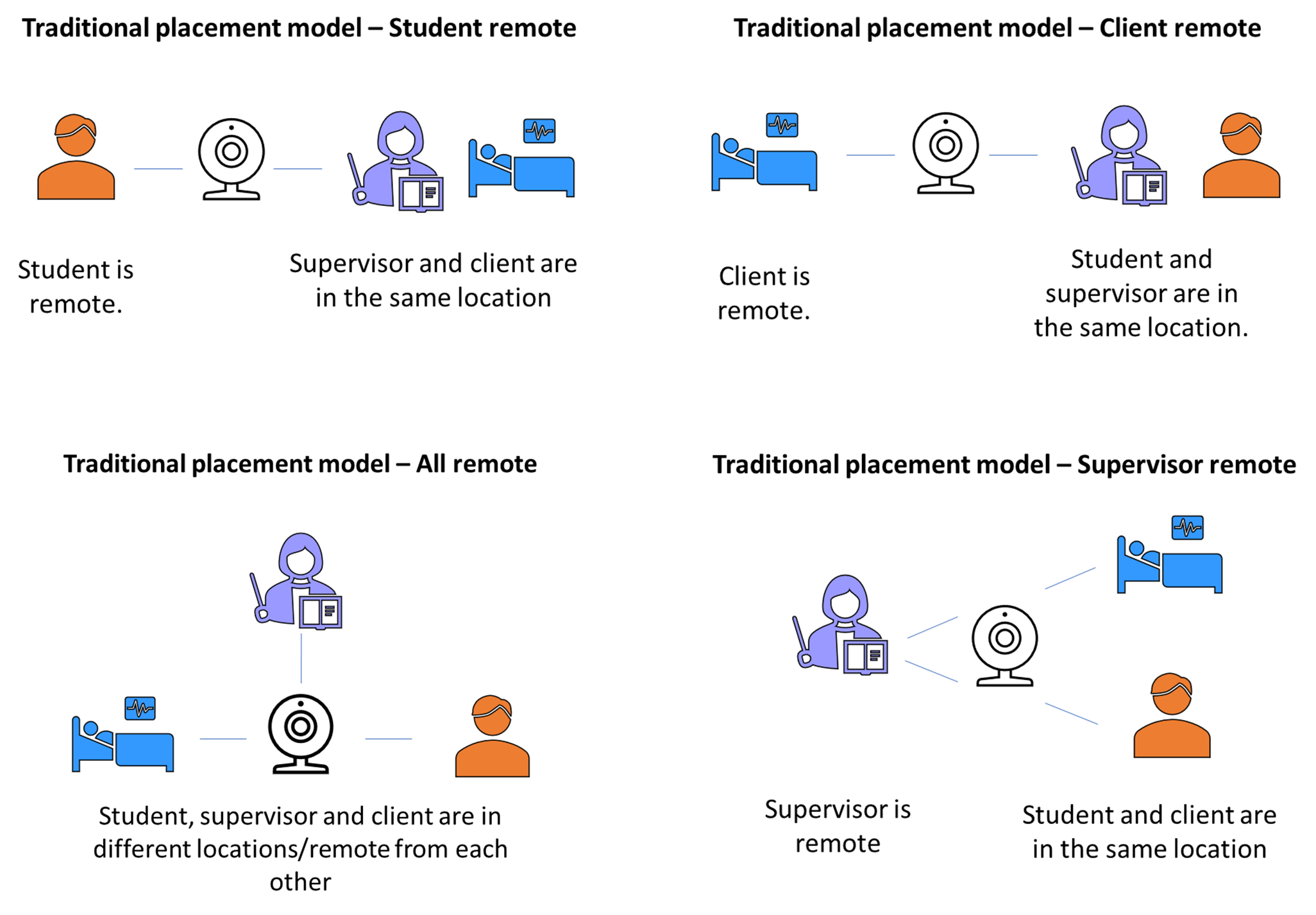 Virtual placements can include other placement models, including project based and role emerging placements, as well as collaborative placement models, as illustrated below: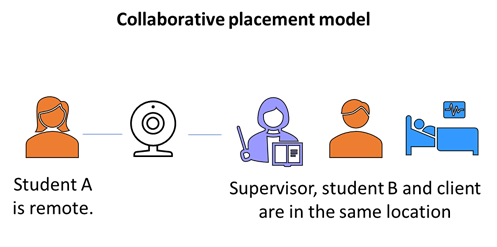 ---
Advantages and challenges associated with virtual supervision models

Some of the advantages and challenges of providing virtual supervision are outlined in the table below:

Table: Advantages and challenges associated with virtual supervision models

Advantages
Challenges

Uses technology to enhance service delivery
Cost and time effective (reduced travel to remote sites, allowing more time for supervision)
Opportunity for students to be responsive and flexible

Potential for less informal learning
Communication requires deliberate and careful planning
Less opportunity for observing team dynamics, interactions and learning in this way, as supervision is 'scheduled'
Challenges the traditional view of 'placement'. Students may feel disappointed or overwhelmed as their perception of placement may be different to their experience of placement
Difficulty in assessing students' performance using practical examinations

Considerations for supervisors planning virtual placements

In addition to standard preparation and planning for placement activities, supervisors should consider the additional guidance and support that may be required for students who are embarking on virtual placements and/or with virtual supervision. You may find the following checklist useful when planning a virtual placement:

Checklist for virtual supervision:

Communication
I have discussed with the student how learning opportunities will be supported and supervised in the virtual placement model.
☐
I have discussed with the student how assessment will be supported and implemented in the virtual placement model.
☐
I have discussed online communication expectations with the student and provided them with resources to support them learn how to communicate in an online environment.
☐
I have scheduled opportunities before and during the placement, for me to get to know the student and to develop a working relationship in the online environment.
☐
I have ensured that there are both formal and informal sessions scheduled with the student to promote connection.
☐
Placement type and progression
I have selected a placement model that fits the health service and virtual placement environment, and university requirements.
☐

I have planned the placement to provide the student with the opportunity to progressively immerse themselves in client care, in a structured and developmental manner.

For example, starting with setting up online consultations, shadowing virtual health clinics (patient consent required), consulting simple cases (or providing part of the consult) and progressing to a full caseload.

☐
Informal learning opportunities
I have explored the functionality of the virtual platform for to support students while they are working with clients (for example use of messaging/chat function or communicating off screen during supervision sessions).
☐
I have scheduled online contact time (i.e., without clients) to ensure professional socialisation for the student with other team members.
☐
I have planned local team‐based activities and events so that the students and supervisors can meet in person (facilitated within local restrictions).
☐
Assessment
I have contacted the university to establish how assessment should be completed in a virtual environment.
☐
I have reviewed the assessment criteria/competencies and have considered how they can be demonstrated in a virtual environment.
☐
I can join a student-client session as a third party (if the supervisor and student are not co-located).
☐
Documentation
I have established how client documentation will occur in the virtual healthcare environment and it meets my organisation's requirements.
☐
I have established a process for countersigning health record entries completed by the student (if required).
☐
Student safety
I have reviewed and I understand my organisation's and the university's policies and procedures relating to the use of online supervision and healthcare using videoconferencing platforms and other supporting technology or software.
☐

I have provided the student with instructions on how to manage risks in the virtual placement setting.

(Consider environmental risks, occupational health and safety, management of emergencies)

☐

Virtual supervision resources

References: Virtual supervision and virtual placements

References:

Gill, R., Allied Health student supervision for telehealth placements, Flinders University, Editor. 2020, Government of South Australia, SA health
Klarowska, B., Telesupervision: How Remote Supervision Can Help, Time2Track, Editor. 2019.
McIver, S. and B. Murphy, What just happened? Student perspectives on health promotion placements during COVID-19. Health Promot J Austr, 2021.
O'Connor, M., et al., 3D virtual reality simulation in radiography education: The students' experience. Radiography (Lond), 2021. 27(1): p. 208-214.
Peart, A., et al., 'It became quite a complex dynamic': The experiences of occupational therapy practice educators' move to digital platforms during the COVID-19 pandemic. Aust Occup Ther J, 2022. 69(1): p. 38-49.
Rossettini, G., et al., Digital Entry-Level Education in Physiotherapy: a Commentary to Inform Post-COVID-19 Future Directions. Med Sci Educ, 2021. 31(6): p. 2071-2083.
Greenlees, N.T., et al., A novel blended placement model improves dietitian students' work-readiness and wellbeing and has a positive impact on rural communities: a qualitative study. BMC Med Educ, 2021. 21(1): p. 387.
Twogood, R., et al., Rapid implementation and improvement of a virtual student placement model in response to the COVID-19 pandemic. BMJ Open Qual, 2020. 9(4).