Most health professionals who support students on their learning journey discover they need additional skills and support to be effective supervisors.
In this video, Building skills in clinical education: Facilitating the learning journey - YouTube Teresa and Anne from the School of Health and Rehabilitation Sciences, University of Queensland talk about ways learning can be facilitated on student placements.
Supporting the student's journey
Adults tend to learn best when they are allowed to take responsibility for the learning process. The supervisor's role is to facilitate self-directed learning rather than teach. A key concept to consider is the supervisor's role as a coach, encouraging the student to find out or talk/think through the answer, rather than telling them as a teacher. The supervisor should ask guiding questions to encourage the student to test options, analyse risk and consider limitations and innovations. For students, the ability to drive one's own learning is an essential skill in learning to manage varied and unpredictable clinical scenarios.
Tips to support the student's journey include:
Creating opportunities for self-directed learning

Working collaboratively with the student to identify opportunities and resources to support the achievement of learning objectives:

Interactive case studies using a real client scenario, where the student is given time to independently plan and justify the assessment and intervention options before collaborating with their supervisor to select and implement the intervention.
Dedicated time during the day for the student to participate in reflection and self evaluation of a case study and/or learning objective/competency.
Opportunities for students to discuss, debate and compare their plans with their student peers and supervisors.
Avoiding learning methods that only require recall of information
Allowing adequate time for active learning opportunities (i.e., avoiding content overload)

Considering learning styles

A key thought to keep in mind is "Not everyone learns the same way I do." It is important that supervisors consider a variety of teaching approaches to accommodate different learning styles (and not just those that reflect their own preference or learning experience)
There are many learning style tools and models published from psychology, sociology, business, management, and education fields. These attempt to classify learners based on how a person engages in learning activities and/or how a person responds to different sensory modalities.
Learning styles are not fixed in all situations and can change depending on task and context.
To optimise learning experiences, it is preferable to use a variety of methods that will appeal to different individuals and ensure students are well equipped to learn from a wide range of everyday experiences across different contexts.
If a student is struggling, or if you are wanting to discuss a difficult concept, supervisors may opt to teach in the students preferred learning style (if they have one)
Liaise with your university placement coordinator if you are considering use of a learning style questionnaire.
Useful resource: "Should we be using Learning Styles? What research has to say to practice".
Facilitating skill acquisition
One of the challenges for supervisors is knowing the stage the student is at, and adjusting the supervision (level of instruction, amount of support) accordingly. The infographic below explains Peyton's 4-step teaching approach on skill acquisition: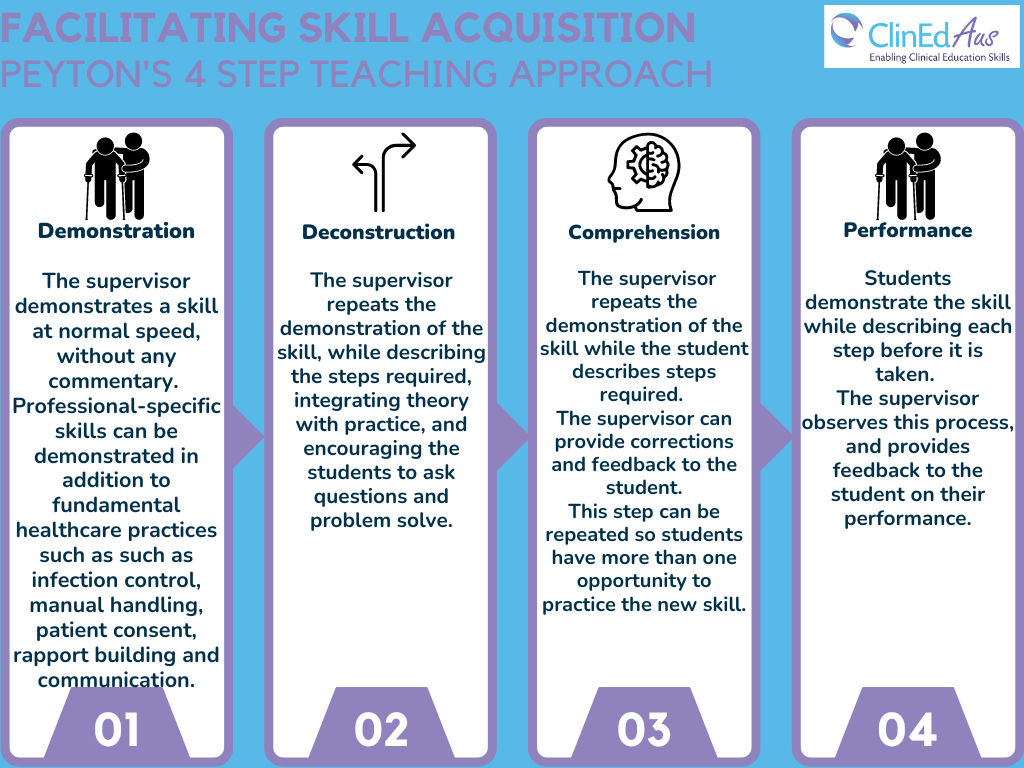 ---
References:
Please Note: References remain valid until superseded by later research. The resources referenced here are regularly reviewed and are considered current and relevant to the topics presented.
Health Education and Training Institute (2023). Clinical supervision: The superguide: a handbook for supervising allied health professionals https://www.heti.nsw.gov.au/education-and-training/our-focus-areas/allied-health/clinical-supervision
Coffield, F., Moseley, D., Hall, E. and Ecclestone, K. (2004) Should we be using Learning Styles? What research has to say to practice. London: Learning and Skills Research Centre. Retrieved from http://itslifejimbutnotasweknowit.org.uk/files/LSRC_LearningStyles.pdf
Doran, G.T. (1981), 'There's a S.M.A.R.T. way to write management's goals and objectives', Management Review, 11, (AMA FORUM), 35-36.
Giacomino, Katia & Caliesch, Rahel & Sattelmayer, K.. (2020). The effectiveness of the Peyton's 4-step teaching approach on skill acquisition of procedures in health professions education: A systematic review and meta- analysis with integrated meta-regression. PeerJ. 10.7717/peerj.10129.
Health Education and Training Institute (2023). Clinical supervision: TThe learning guide: A handbook for allied health professionals facilitating learning in the workplace https://www.heti.nsw.gov.au/education-and-training/our-focus-areas/allied-health/clinical-supervision
Health Workforce Australia (2013). Enabling Clinical Supervision Skills. Griffith University, Gold Coast, Australia.
Honey, P. & Mumford, A. (2006). The learning styles questionnaire, 80-item version. Maidenhead, UK: Peter Honey Publications.
Lake, F. & Hamdorf, J. (2004) Teaching on the run tips 5: Teaching a Skill. Medical Journal of Australia. 181 (6): 327-328.
Smith, P. & Blake, D. (2005). Facilitating learning through effective teaching: At a Glance. Adelaide: Australian Government.
Stalmeijer, R., Dolmans, D., Wolfhagen, I., Muijtjens, A., & Scherpbier, A. (2008). The development of an instrument for evaluating clinical teachers: involving stakeholders to determine content validity. Medical Teacher, 30, e272 – e277.