Visit the Preparing for and managing placement section of ClinEdAus to consider:
The motivation for offering a placement.
The ability to facilitate student learning.
The capacity to provide a suitable placement environment.
Preparing for a rual and remote student placement
In this video, Courtney Heal, an interprofessional clinical educator for allied health who works in a rural and remote health setting explains the resources and information prepared for students before they come on placement.
In this next video, Courtney identifies information and resources that are useful once the student has started their rural and remote placement.
Placement models and approaches to supervision in a rural and remote setting
A rural and remote placement may require an innovative approach to address staff availability, the amount of travel undertaken and the need to maintain a work-life balance. In the video below, Sarah Jackson, Physiotherapist, Clinical Educator and North West Community Rehab Project Manager at the Mount Isa Centre for Rural and Remote Health (MICRRH) describes two placement models that have been used in Mt Isa.
In this next video Professor Barbara Dodd, Speech Pathologist, discusses an innovative student placement for a rural community that provides a service for the community. It is a collaborative model with one clinical educator supervising a group of students across different sites.
To assist you to determine an appropriate placement model for your health service, visit the 'Placement models and approaches to supervision' section of ClinEdAus.
Three Rivers Department of Rural Health (Charles Sturt University) provide a webpage outlining various placement models used in rural and remote settings: 3 Rivers UDRH Placement models
When considering your approach to planned supervision sessions with the student/s, consider: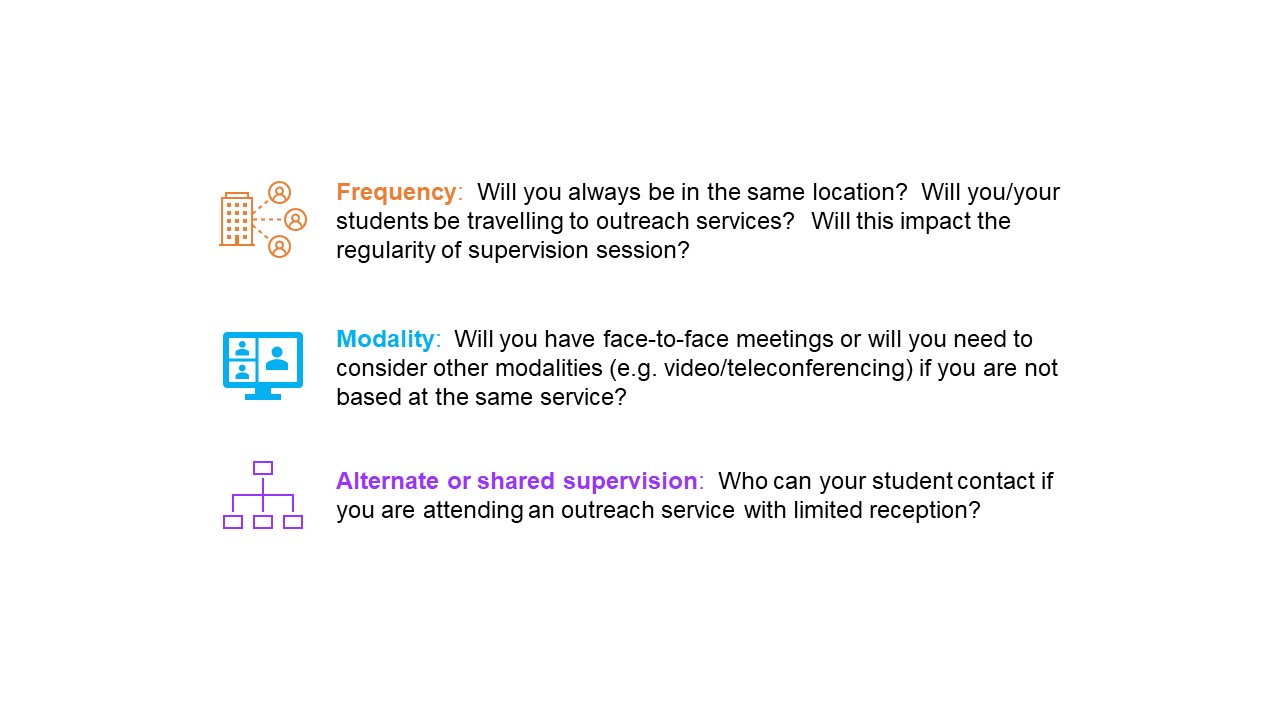 ---

References:
Please Note: References remain valid until superseded by later research. The resources referenced here are regularly reviewed and are considered current and relevant to the topics presented.
Siggins Miller Consultants (2012). Promoting Quality in Clinical Placements: Literature review and national stakeholder consultation. Health Workforce Australia, Adelaide.
National Rural Health Students' Network (2019). Rural Placements Guide How to make the most of your rural placement.
Health Workforce Australia 2013: A Framework for Effective Clinical Placements in Rural and Remote Primary Care Settings.
Maloney, P., Stagnitti, K. & Schoo, A. (2013). Barriers and enablers to clinical fieldwork education in rural public and private allied health practice. Higher Education Research & Development, 32(3), 420-435. https://doi.org/10.1080/07294360.2012.682255
Jones, D. et al., (2011). Model for rural and remote speech pathology student placements: Using non-traditional sites and partnerships. Australian Journal of Rural Health, 19, 52-53.https://doi.org/10.1111/j.1440-1584.2010.01177.x
Lekkas et al., (2007). No model of clinical education for physiotherapy students is superior to another: a systematic review. Australian Journal of Physiotherapy,53, 19-28.
Smith, T., Brown, L. & Cooper, R. (2009). A Multidisciplinary Model of Rural Allied Health Clinical-Academic Practice: A Case Study. Journal of Allied Health, 38 (4), 236 -241.