In this video, Jacqui Broadbridge outlines her approach to orientation, identifies the strengths associated with interprofessional education placements, how to manage a 'silo/tribe' mindset, and troubleshoots some of the common challenges experienced by supervisors:
In collaboration with the Australasian Interprofessional Practice and Education Network (AIPPEN), Monash University have developed the infographic below that summarises the evidence relating to facilitating interprofessional education (Click on the image to view in full).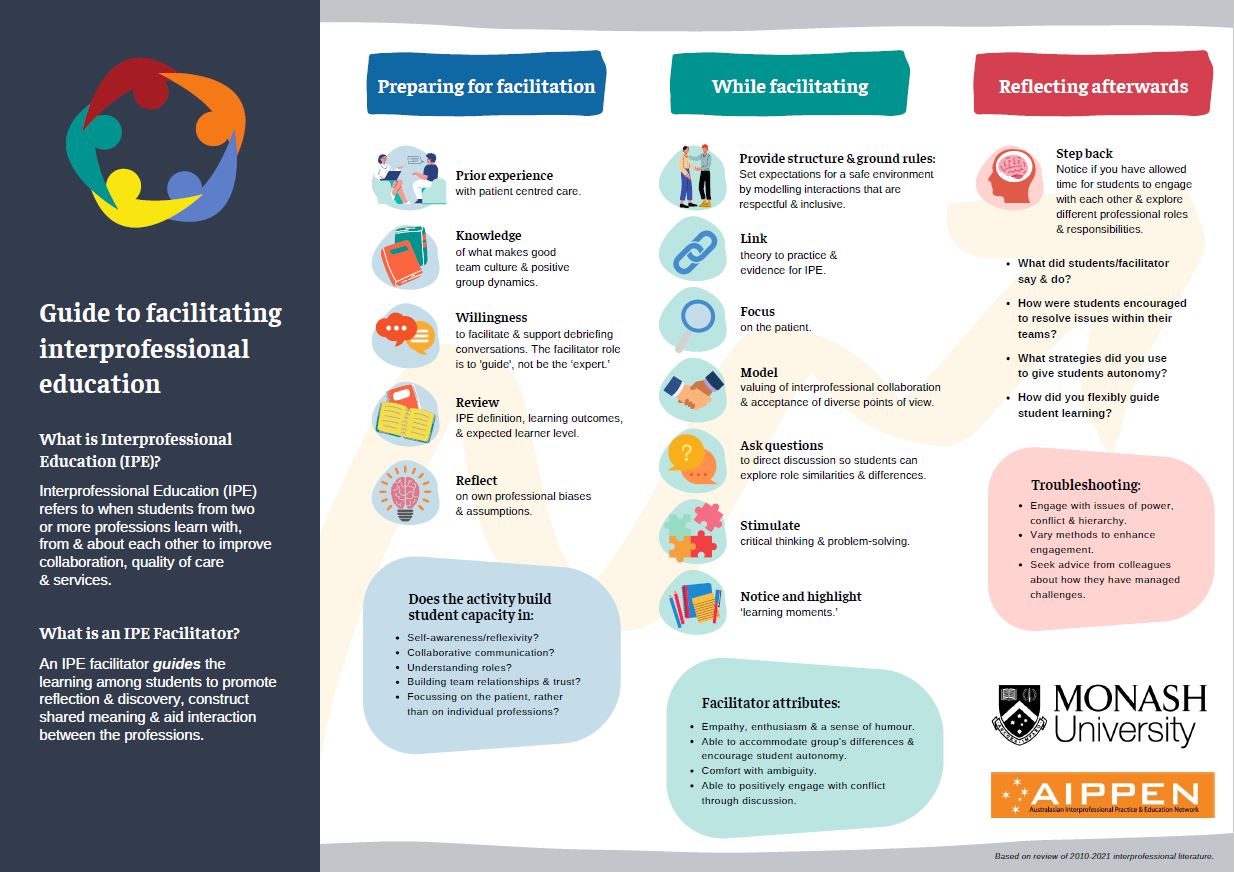 Source: Monash University (2021) Guide to facilitating interprofessional education. Reproduced with permission from https://www.monash.edu/medicine/education/ccc
You may also find this fact sheet useful as you prepare for an IPE placement: Fact Sheet: Three easy steps to supervising staff from other professions.
Dispelling common myths and facts in IPE
The infographic below identifies common myths related to IPE and the myths that expose them: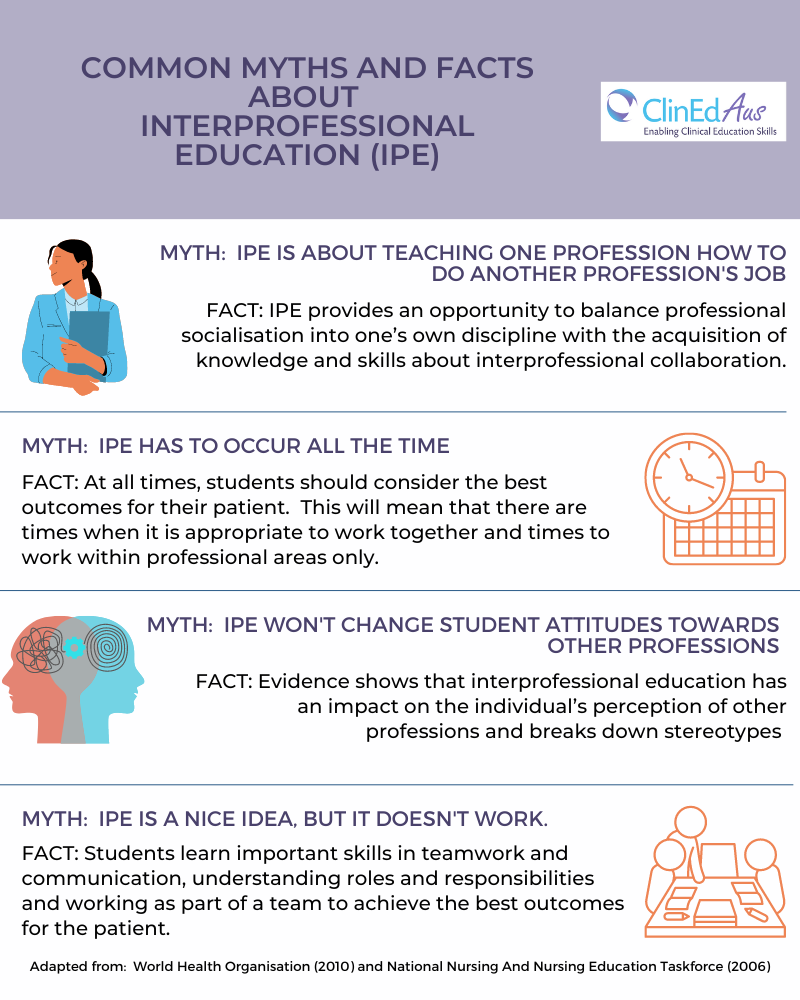 ---
References:
Casimiro, L. & Hall, P. (2011). Interprofessional Education: Student pre-reading document. Ottawa: Academic Health Council - Champlain Region. Retrieved from http://www.ahc-cas.ca/repo/en/educational%20resources/AHC%20Student%20pre-reading%20document_EN.pdf
Council on Social Work Education (1999). Myths and Opportunities: An Examination of the Impact of Discipline-Specific (Executive Summary). Retrieved from http://website.cswe.org/casey/understanding1.htm
National Nursing and Nursing Education Taskforce (2006). Myth busters. Retrieved from Australian Health Ministers' Advisory Council website: http://www.nnnet.gov.au/downloads/mythbusters_np.pdf
Reeves, S., Zwarenstein, M., Goldman, J., Barr, H., Freeth, D., Hammick, M., Koppel, I. (2009). Interprofessional education: effects on professional practice and health care outcomes. Cochrane Database of Systematic Reviews, 4(1), 1-22. doi: 10.1002/14651858.CD002213.pub2.
Sheehan, D., Robertson, L., & Ormond, T. (2007). Comparison of language used and patterns of communication in interprofessional and multidisciplinary teams. J Interprof Care. 21(1):17-30. https://doi.org/10.1080/13561820601025336
World Health Organisation (2010) Framework for action on interprofessional education and collaborative practice. Retrieved from: https://www.who.int/publications/i/item/framework-for-action-on-interprofessional-education-collaborative-practice
Health Education Training Institute (2020). The Learning Guide – A handbook for allied health professionals facilitating learning in the workplace. Sydney: HETI. Retrieved from http://www.heti.nsw.gov.au/Global/HETI-Resources/allied-health/allied-health-learning-guide.pdf
---
Topics