Occasionally when undertaking a placement, students are faced with circumstances that reflect a personal experience, like loss of a family member. Alternatively, you might witness the death of a client or be involved with a client's care that may end in a death. You may be exposed to an experience that is strikingly similar to your own life, like treating a client with a brain injury who is the same age as you and interested in similar things to you. These are all confronting and can affect you emotionally. Preparing yourself for them and having some strategies in place if these occur are vital for you to be able to practice effectively both on placement and in the future as a health care professional.
Realisation, Reflection, Resilience.
The first step is being aware that these events can occur, being aware that you are affected by them and aware that you are not alone. It is often the hardest part.
A common theory is that there are five stages of grief and loss: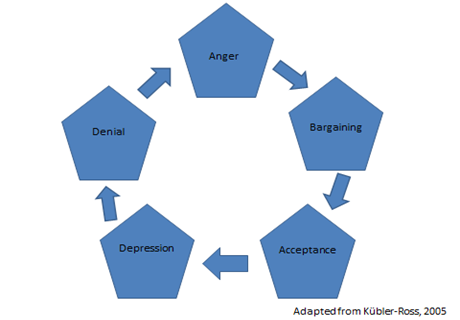 They are not in any particular order and you can fluctuate between the stages and with different levels of emotion within each (Kübler-Ross & Kessler, 2005, p.7). So if you find you are feeling any of these, it is normal. If you are feeling stuck in any way, or uncomfortable with the emotions you are experiencing, seek help immediately.
The second step is using reflection time, either with someone else, or using a reflective journal. This allows you to process an event, and subsequently learn from it.
Managing Loss and Grief, a guideline completed by SAfer Industries (2004), includes practical and simple strategies to manage your own stress and grief, reaching closure and how to communicate with the dying, the relatives and other staff (Pp. 32-38).
Thirdly, with support, reflection and experience, you will slowly build resilience so that you can accept the adverse events you are faced with and move through the emotion, allowing the focus of intervention to return to client needs.
This clip presented by Jane Anderson from University of the Sunshine Coast as part of the Queensland Government's Interprofessional Clinical Educator Series, explores University Students' Mental Health and the supports and associated challenges.
A personal touch
The Nursing Standard has a range of personal perspectives from nursing students facing strenuous situations, from coping with death to verbal aggression.
And this article reviews the perspectives of preceptors and students in a post graduate pharmacy program
References
Kübler-Ross, E. & Kessler, D. (2005). On grief and grieving: Finding the meaning of grief through the five stages of loss. New York: Scribner.
---