Interprofessional Education as a practice context for allied health student placements
In the Framework for Action on Interprofessional Education and Collaborative Practice, the World Health Organisation (WHO) (2010) explains that interprofessional education occurs when:
"…students from two or more professions learn about, from and with each other to enable effective collaboration and improve health outcomes" and is a critical requirement for collaborative practice.
Collaborative practice "… happens when multiple health workers from different professional backgrounds work together with patients, families, carers and communities to deliver the highest quality of care" (WHO, 2010).
The relationship between interprofessional education and collaborative practice is illustrated below: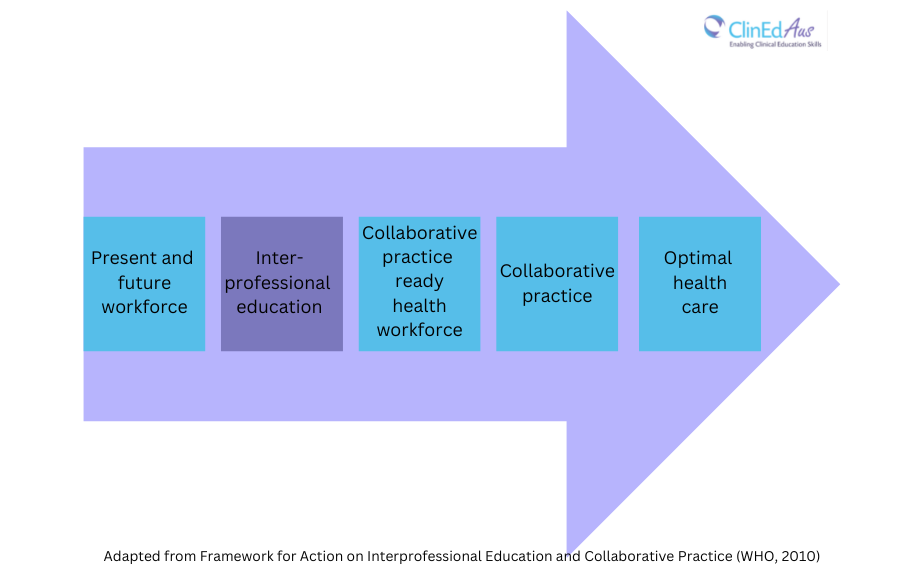 In this video Antoinette Fitzgerald, an Advanced (Clinical Specialist) Occupational Therapist with Queensland Health's Child Development Program, explains how interprofessional clinical education works within their multidisciplinary team.
Clinical educator and student perspectives of interprofessional clinical education placements within the Institute for Urban Indigenous Health are described in this video.


---
References:
World Health Organisation (2010) Framework for action on interprofessional education and collaborative practice. Retrieved from: https://www.who.int/publications/i/item/framework-for-action-on-interprofessional-education-collaborative-practiceCentre for the Advancement of Interprofessional Education (CAIPE), (2002). Defining IPE. Retrieved from https://www.caipe.org/about-us
Centre for the Advancement of Interprofessional Education (CAIPE), (2002). Defining IPE. Retrieved from https://www.caipe.org/about-us
Stone, N. (2013). Interprofessional Learning in the Field: Multidisciplinary Teamwork. In Stagnitti, K., Schoo, A. & Welch, D. (Eds). Clinical and Fieldwork Placement in the Health Professions (2nd ed.)(pp.95-127). South Melbourne: Oxford University Press.
World Health Organisation (1988). Learning together to work together for health. Retrieved from the World Health Organization, Geneva: http://whqlibdoc.who.int/trs/WHO_TRS_769.pdf
---