Types of feedback
Providing regular, effective feedback to your student is one of your most important roles as a student supervisor. Numerous opportunities for giving feedback should occur during a clinical placement including:
Informal feedback: part of the normal day-to-day interaction.

'Formative' feedback i.e. feedback that is specifically designed to reflect on the student's current performance, relative to learning objectives, with guidance on strategies for improvement, THAT IS NOT ASSESSED.
Formal feedback associated with assessment.
Consequences of a Lack of Clear Feedback
Cohan, 2005 (as quoted in Health Education and Training Institute, 2011) lists the following consequences of a lack of clear feedback:
Clinical care is not as good as it could be.
Anxieties and inadequacies are not addressed.
When weaknesses are exposed later in their career, the staff member has difficulty accepting criticism because of previous 'good reports'.
Others are blamed when the staff member is unsuccessful.
Learning is inhibited, career progression is delayed.
Staff are not given the ability to develop to their full potential.
Therefore, even though at times it can be challenging giving negative feedback, failure to do so can have a significant effect on the student's future development and career.
On this page you will find:
Tips for giving effective feedback.
Feedback models.
Barriers to effective feedback.
Video scenarios showing effective and ineffective feedback delivery.
eLearning and resources for providing feedback.
Reflection activity.
Giving Effective Feedback
Giving effective feedback is a skill to be learnt. Feedback that is inconsistent in amount, type and timing can be detrimental for a student's progress. In short, feedback should be:
Timely: as close as possible to the event but with care to pick a good moment (not when you or the student is exhausted, distracted or upset) that allows enough time so that the feedback session is not rushed).
Constructive: Talk in terms of what can be improved.

Acknowledge that gaps and errors are expected in learning. Focus the conversation on continued improvement.

In an appropriate setting:

Be sure to select an appropriate time and space to provide feedback to students. Positive feedback can be effective when given in the presence of peers or patients. Negative feedback (constructive criticism) should be given in a private and undisturbed setting.

Prepared:

Before you provide feedback, it is important to consider your expectations and share these with the student. If you don't share your expectations, there may be a lack of clarity on which your evaluation is based.
Plan the feedback session so both you (as supervisor) and the student have an opportunity to prepare. Provide the purpose of the session (how it will assist and support the student to improve), highlight the plan for the session (for example reflection followed by learning plan development) and set expectations for how the student can participate to ensure it is a two-way interaction. This might involve the student sharing a self-reflection on their progress on a specific task, or the use of verbal prompts so the student knows how to respond to the feedback. For example, 'Stop me at any point if I say things that you don't agree with or you require more clarification on'.

Plan what you want to talk about and how you will deliver this. Identify and emphasise the key points, being mindful to limit the number of key points in each feedback session
Review and use any reference or student placement documents to assist with your word selection, for example if the feedback is relating to a specific competency. Ensure you adopt clear and precise use of words or terms.
Use objective rather than subjective comments, by removing the 'I' and replacing it with 'there' or 'it', e.g. 'It was apparent that there was…'.
Don't talk too fast. Use pauses
Be aware of your and your student's body language during the session
Specific: Vague or generalised praise or criticism is difficult to act upon. Be specific, through the use of examples.
Balanced: recognise positive and negative events to avoid the student becoming disheartened.
A feedback session should be a dialogue between two people. Encourage two-way discussion through use of active listening and elements of advanced questioning. Students should be given the chance to comment on the fairness of feedback and to provide explanations for their performance.
It is important to remember that students may not be used to receiving feedback or their previous experience of feedback may have been poor. Be prepared for an emotional response from the student, and encourage them to take a break if required.
Monitor for understanding. Allow time and provide opportunity for the student to react, reflect and respond. This might be by including statements or questions like: "Let's decide together on the action plan required to address the feedback. This might include what documentation is required from the feedback session, the role of the university, and identifying a follow up plan."
It can also be good modelling if the supervisor asks the student for feedback too! This can assist to promote a work culture where 'feedback' is the norm, it aids in the development of the student-supervisor relationships, and it might identify ways in which to improve your supervisory skills. It can also reduce a perceived power gap if the supervisor reveals their own vulnerabilities and acknowledging that learning is ongoing.
In the figure below, Weallans and colleagues (2021) explore the sequential process of providing feedback: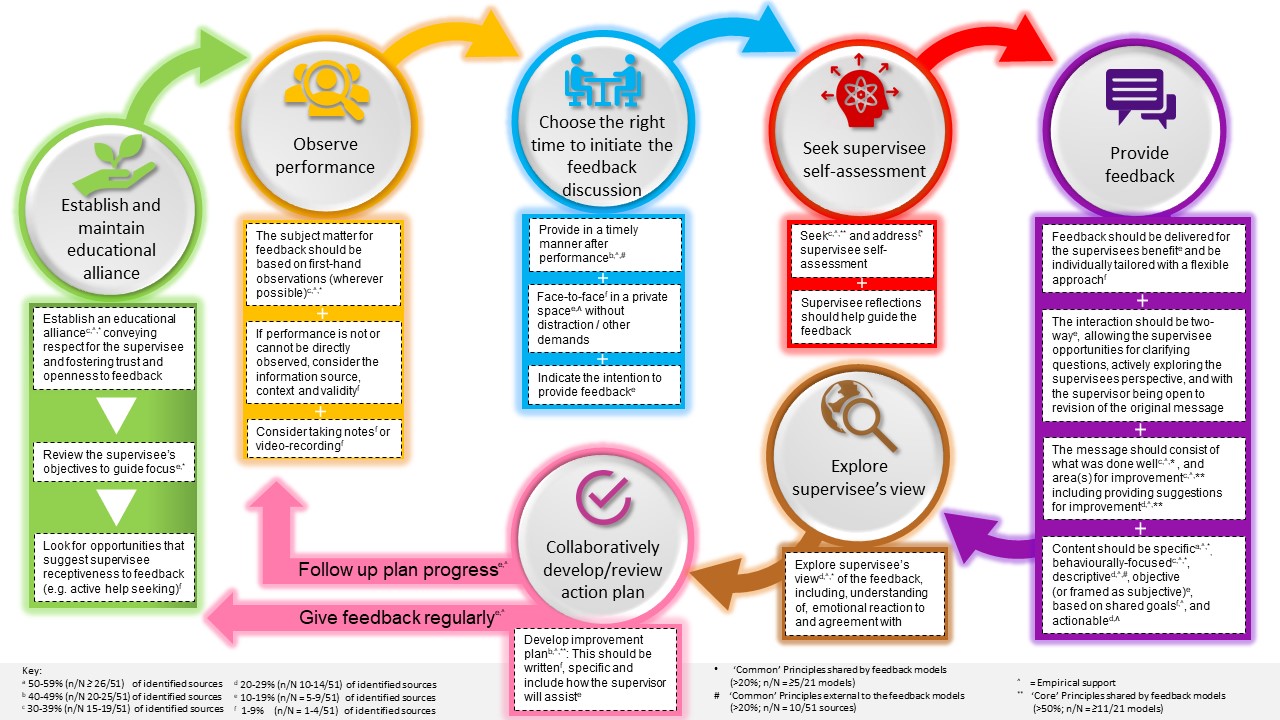 Please also read the Advanced Questioning section contained within the Communication section of this website.
Feedback models
The use of feedback models can assist student supervisors prepare and plan their feedback session. Hardavella (2017) outlined various feedback models:
The feedback sandwich: The feedback sandwich starts and concludes with positive feedback, and what can be considered as the more critical or constructive feedback is "sandwiched" between the two positive aspects. To avoid students becoming familiar with this model and waiting for the 'but', it is important to provide positive feedback on its own when the opportunity exists.
Chronological fashion: If it is only a small amount of feedback, then this method may be useful. It involves reflecting on the positives and opportunities at each stage/interval of the assessment.
Pendleton model: This conversation-based model is learner centred and allows the student to initiate the feedback session by articulating what is being assessed and what they did well. This can then be verified by the facilitator and creates a safe environment first by identifying positives. This can reduce the risk of students becoming defensive and can allow for an action plan or goals to be developed.
Barriers to effective feedback
Untimely and unexpected feedback that is not specific and/or identify opportunities for improvement can limit the likelihood of the feedback being effective.
Student supervisor relationship – trust and respect are required in this relationship to facilitate a safe environment for effective feedback.
Lack of supervisor confidence in the delivery of feedback and fear of upsetting the student can affect the student supervisor relationship and be a barrier to the delivery of effective feedback
Language and cultural differences that affect the way feedback is given and received can also be a barrier to effective feedback if not managed appropriately.
Video Scenarios: Ineffective and Effective Feedback
These four scenarios explore the impact of communication skills on feedback to a student on placement. In scenario 1 the student supervisor provides the student with his view of the session. The feedback is clear and specific but not constructive. The student supervisor does not acknowledge what the student has done well. He does not use positive body language and fails to interpret the student's body language while giving feedback.
In scenario 2 the student supervisors message is not clear and the student is left wondering what was the point of the feedback.
In scenario 3 the student supervisor is positive but time poor.
In the final scenario the student supervior has well-developed and effective communication skills. The feedback process facilitated a discussion where the student is engaged and reflects on her performance.
eLearning and resources for providing feedback
Supporting Health students in the workforce Tasmanian Clinical Supervision Learning Package for Health Professionals has been developed to help guide and support clinical education and supervisor training activities in Tasmania. The 4th module in the series of open access eLearning modules is on 'Constructive feedback'
---
References:
ACT Government, (nd) ACTPS Performance Framework: The Art of Feedback: Giving, seeking and receiving feedback. Accessed November 2020 from https://www.cmtedd.act.gov.au/__data/assets/pdf_file/0003/463728/art_feedback.pdf
Duffy, K., (03.04.2013). "Providing constructive feedback to students during mentoring". Nursing standard (0029-6570), 27 (31), p. 50.
Hardavella, G., Aamli-Gaagnat, A., Saad, N., Rousalova, I., & Sreter, K. B. (2017). How to give and receive 
feedback effectively. Breathe (Sheffield, England), 13(4), 327–333. https://doi.org/10.1183/20734735.009917
Health Education and Training Institute (2011). The superguide: A handbook for supervising allied health professionals. Sydney: HETI. Retrieved from: https://www.heti.nsw.gov.au/education-and-training/our-focus-areas/allied-health/clinical-supervision
Health Education and Training Institute. The Learning Guide a handbook for allied health professionals facilitating learning in the workplace. Sydney: HETI, 2012.
Health Workforce Australia (2013). Enabling Clinical Supervision Skills. Griffith University, Gold Coast.
Johnson CE, Keating JL, Molloy EK. Psychological safety in feedback: What does it look like and how can educators work with learners to foster it?. Med Educ. 2020;54:559-570. https://doi.org/10.1111/medu.14154
Weallans J, Roberts C, Hamilton S, Parker S. Guidance for providing effective feedback in clinical supervision in postgraduate medical education: a systematic review. Postgrad Med J. 2021 Feb 9:postgradmedj-2020-139566. doi: 10.1136/postgradmedj-2020-139566. Epub ahead of print. PMID: 33563716.
---