A guide to interprofessional education
What makes an effective IPE facilitator?
Have knowledge and competence in working within an interprofessional team environment
Role model teamwork and collaboration
Are available to and value learners
Provide feedback.
Nisbet and Thistlethwaite (2007, cited in HETI, 2012, p.60)
Challenges of using IPE to facilitate learning
Difficulty getting people together from different geographical areas
Time/schedule clashes
Overcoming the silo/tribe mindset
Obtaining buy-in from management/supportive workplaces.
Tools for IPE
The Alberta Health services produced a comprehensive, practical guide 'Collaborative Practice' in 201 to assist all involved in the Collaborative learning/IPE process.
The Faculty of Medicine, Nursing and Health Sciences (FMNHS) at Monash University has established consensus on the curriculum required to prepare students for collaborative practice. Read more about the process and access the framework here
For a quick reference tool, try the Fact Sheet: Three easy steps to supervising staff from other professions.
The Interprofessional Education Collaborative provides additional resources relating to core competencies for collaborative interprofessional practice
Watch the video for some handy hints.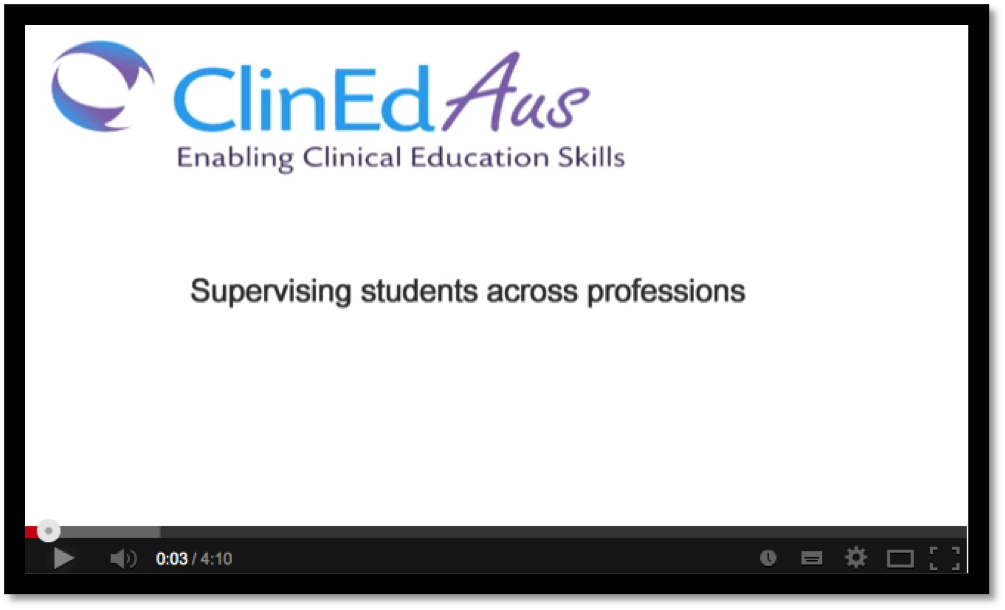 Curtin University's Faculty of Health Sciences has compiled a information and resources related to Interprofessional Education, including workshops, placements and examples.
References
Nisbet, G. & Thistlethwaite, J. (2007). Preparing our educators for interprofessional learning: A framework for a work-based interprofessional learning staff development workshop. Focus on Health Professional Education: A Multidisciplinary Journal, 8 (3), 95-101 In Health Education Training Institute (2012). The Learning Guide – A handbook for allied health professionals facilitating learning in the workplace. Sydney: HETI. Retrieved from http://www.heti.nsw.gov.au/Global/HETI-Resources/allied-health/allied-health-learning-guide.pdf
---