What makes an effective IPE facilitator?
Have knowledge and competence in working within an interprofessional team environment
Role model teamwork and collaboration
Are available to and value learners
Provide feedback.
Challenges of using IPE to facilitate learning
Difficulty getting people together from different geographical areas
Time/schedule clashes
Overcoming the silo/tribe mindset
Obtaining buy-in from management/supportive workplaces.
Tools for IPE
And, watch the video for additional handy hints.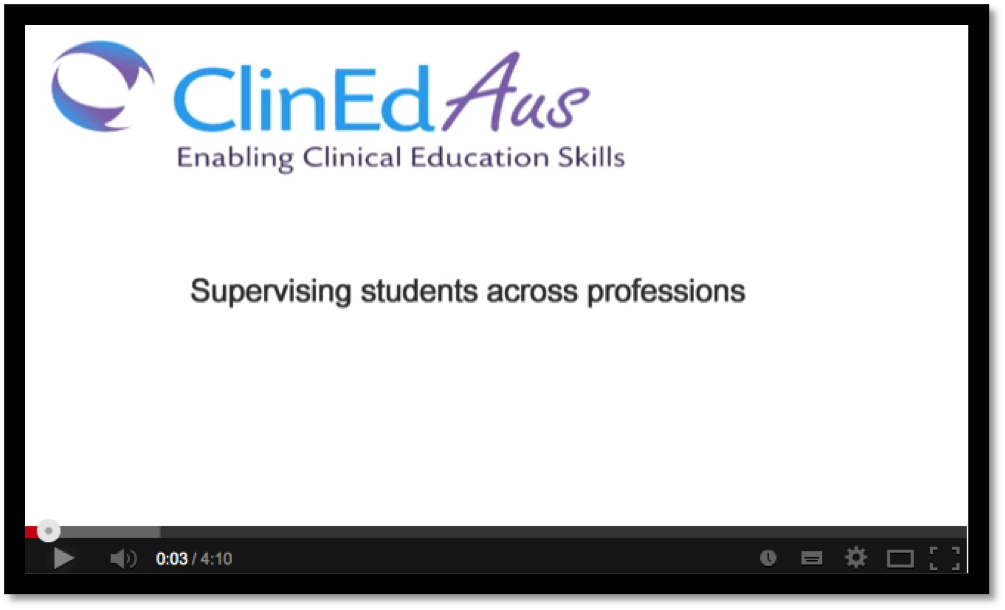 IPE websites and online modules
National Reporting
Search template for IPE
Looking for the latest evidence on clinical placements in Interprofessional Education contexts?
Try these Databases:
PubMed and Google Scholar are freely available databases that can be used to search for literature if you do not have alternate database access provided by your employer.
Try these Keywords to find resources about IPE within health care settings:
Interprofessional Education, Interprofessional Relations, Interprofessional learning, interprofessional outcomes (health), students, interdisciplinary study, interdisciplinary standards, workforce, educational models, collaborative care, team-based practice, competencies, health, health care, allied health
Then, combine with key words for the subject area you are seeking:
For example, if you are looking at providing constructive feedback when supervising an interprofessional student placement, you might also include student feedback, constructive feedback, student performance etc...
You may also wish to combine with the professions you are working with, for example, speech pathology and occupational therapy
Some useful resources to guide your appraisal:
The International Centre for Allied Health Evidence is a global initiative aimed at improving the quality and safety of allied health care through the provision of tools, services and resources to support the health workforce translate evidence into policy and practice. They provide a series of Critical Appraisal Tools to assist health professionals critique a variety of study types.
Learn more about the Impact Factors of the journals you select
Don't forget to search the grey literature:
Reports, data/statistics, policies or books published by appropriate organisations or government bodies may also provide you with useful information. It is best to search these websites directly or, as often this type of information is published in 'PDF' format, used the advanced search function in Google settings to specify Adobe Acrobate PDF (.pdf) as the file type for your search
Remember to consider the credibility, reliability, evidence used, perspective/bias and purpose when screening the grey literature you have located.
With Acknowledgements to Griffith University – Library and Learning Services
---
References:
Nisbet, G. & Thistlethwaite, J. (2007). Preparing our educators for interprofessional learning: A framework for a work-based interprofessional learning staff development workshop. Focus on Health Professional Education: A Multidisciplinary Journal, 8 (3), 95-101 In Health Education Training Institute (2012). The Learning Guide – A handbook for allied health professionals facilitating learning in the workplace. Sydney: HETI. Retrieved from http://www.heti.nsw.gov.au/Global/HETI-Resources/allied-health/allied-health-learning-guide.pdf
---
Topics